Remote working, Taiwan Mobile aids companies to continue their operations in the fight against Covid-19
發稿時間:2021/06/03 10:18:00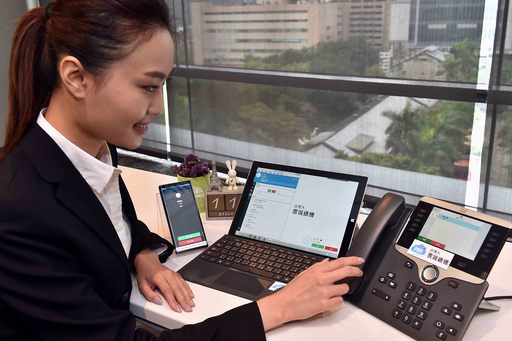 (中央社訊息服務20210603 10:28:15)The demand for remote working has increased astronomically as the Covid-19 pandemic escalates, which poses as a testament to the availability and technology readiness of a company's ability to cope with unexpected events such as the pandemic. Therefore, Taiwan Mobile has put forth a variety of CPaas (Communication Platform as a Service) solutions, which offer free trials and discounts to aid companies through this pandemic ridden time.
Since last year, Taiwan Mobile has been praised for assisting companies with their feature packed service like "Cloud PBX, which has gained three times more users. Instant messaging software "M+ messenger" has also seen a 20 percent increase in the number of corporate users.
"The pandemic is an opportunity, and Taiwan Mobile is ready and technologically capable to seize this opportunity and provide the best services to our customers," said Chief Business Officer C.H. Wu. As the global demand in cloud based CPaaS grows, Taiwan Mobile provides the world with leading CPaaS solutions, which are based on an advanced cloud technology in unison with a robust carrier-grade information security system. Employees can now "work from home" and "work smart " without the companies having to invest and maintain expensive IT infrastructure or lease bandwidth. With Taiwan Mobile's CPaaS, team work is reinvented in this "zero touch" environment.
The first challenge of working from home or telecommuting is decentralization and lack of communication, because employees work in solitary. Yet, as companies move their mainframe onto Cloud PBX, each employee can now have access to multiple mobile terminals. As a response to the pandemic, Taiwan Mobile offers a short-term contract, which offers full access to the aforementioned services without delay, to help companies solve this urgent need for employees to work from home.
Taiwan Mobile also offers a plan of a 180-day free access to its exclusive communication software M+ messenger, which could tailor to the backend needs of different industries. For example, Taiwan Mobile has aided its insurance company clients by bringing their survival surveys online. Taiwan Mobile also will aid Fu Jen Catholic University Hospital in building its medical personnel communication M+ platform, which is expected to help medical front liners combat diseases and build a network of smart medical care.
To meet the need for working from home or telecommuting, Taiwan Mobile has also introduced high definition WebEx online conferencing system, which allows the accommodation of up to 1,000 people by flexibly adjusting the scale of conferencing needs. Taiwan Mobile has also come up with a 14-day free trial package for companies interested in the system.
The need for file management can be fulfilled by "Taiwan Mobile Cloud Storage," where files can be synced, as well as being scanned for viruses upon upload, while sharing files are also not restricted only to office spaces. At the same time, Taiwan Mobile also sourced Microsoft 365 on the basis of its advanced cloud technology, which offers access to various terminals for multinational companies to work remotely. Customers can choose a plan more fitting to their needs.
At a time when Taiwan is currently troubled by both the Covid-19 pandemic and power shortage, Taiwan Mobile is the sole telecommunications company in East Asia that owns the first Uptime Tier III IDC-certified cloud resource environment, and is open to renting out to companies its "compute cloud service 3.0" powered by uninterruptible power supplies, which ensure data backups and 24 hours of uninterrupted cloud monitoring and technical support. Clients can use those services with confidence as the level of information security offered has reached global standards.
訊息來源:台灣大哥大股份有限公司
本文含多媒體檔 (Multimedia files included):