Taiwan Mobile's 5G coverage passes national certification Building more high speed 5G cell towers Striving to provide the best 5G network
發稿時間:2021/06/08 09:33:16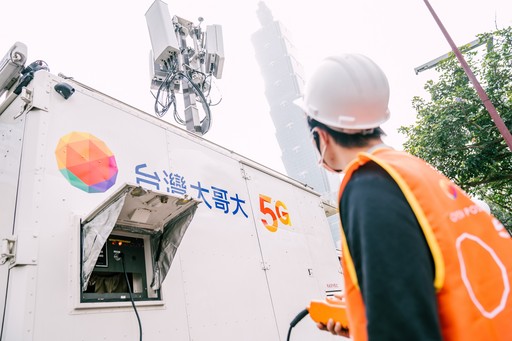 (中央社訊息服務20210608 09:32:55)On April 13, Taiwan Mobile Co., Ltd. announced that it was certified by the National Communications Commission (NCC) on its 5G coverage, reaching 50 percent of the country's population and becoming Taiwan's first telecom service provider to achieve this certification.
Taiwan Mobile had already built over 6,000 5G 3.5GHz high speed cell towers by the end of last year, offering 80 percent 5G coverage in the six special municipalities, with 5G internet traffic coverage around 70 percent across the country.
The company's rate of cell tower constructions and service coverage is not only comparable but also surpassing that of its counterparts in most part of the world.
The number of Taiwan Mobile's 5G user base has surged over 600,000 since last month, fulfilling the fundamental demand of users --a strong and easily accessible 5G reception.
Since Taiwan Mobile introduced its 5G service, the goal has always been to "provide the best overall 5G network experience," Taiwan Mobile President Jaime Lin said.
"We deeply believe that a successful 5G network user experience is first and foremost built on coverage, coupled with high speed," Lin said.
"Since rolling out the service, we at Taiwan Mobile have situated ourselves as the most proactive 5G telecommunication service provider, with 5G network coverage consistently more excellent than that of our competitors and providing a plethora of 5G services," Lin said.
To name a few, the "5G + Wifi 6" package. Taiwan Mobile was the first telecommunication service provider to offer a 48-month contract, where customers could get a flagship smart phone for as low as NT$0, as well as our collaboration with momo Shop to roll out a 5G "momo currency," he elaborated.
"Our efforts were focused on providing a stable 5G service to lure more users in more regions, speeding up the 5G adoptions and penetrations throughout Taiwan," Lin said.
Taiwan Mobile on par with global leading peers in 5G deployment
Taiwan Mobile launched 5G service in July 2020. By the end of last year, the rate of its 5G coverage had already passed 50 percent of the country's population. And it passed the rigorous tests of NCC earlier this year.
The company's 5G expansion has advanced in sync with other leading telecommunication service providers across the world. For example, the world's first 5G telecommunication service provider was South Korea's SK Telecom Co., Ltd. (SKT), and it took SKT 8 months to reach a 50 percent coverage.
Deutsche Telekom AG, another leading telecommunication service provider based in Germany, reached 50 percent coverage In July last year, one year after rolling out its 5G service.
Telstra Corporation Limited, the largest telecommunication service provider in Australia, reached its 50 percent coverage goal in January this year since launching 5G service by the end of 2018.
Spain provisioned 5G in June of 2019, with the country's largest telecommunication service provider Telefonica, S.A. starting to provide 5G service in September of 2020 and reaching 75 percent coverage by the end of the same year.
Accessible and convenient 5G network
5G posed as the next "technological revolution" for the world. Countries across the globe are diverting resources into 5G developments and 5G smartphones.
"5G is without a doubt faster than 4G, but the key is in reception," many users have said.
It all comes down to the infrastructure of a telecommunication company. Based on prior knowledge, Taiwan Mobile is investing heavily in the construction of 5G infrastructure to increase coverage and utility, to create an accessible and strong 5G network.
Big data analysis on users are also used to select the optimal location for building cell towers, signifying Taiwan Mobile's 5G users can enjoy high speed 5G internet service almost anywhere in Taiwan.
Taiwan Mobile dedicated to 5G service to cover all aspects of life
Apart from Taiwan Mobile's effort in building 5G infrastructure and in achieving a leading coverage in Taiwan, the company is also the pioneer of "5G outside WIFI 6 at home" network for a seamless network transition from outdoors to indoors, which has garnered the liking by many users and has since experienced an astounding increase in the number of its users.
With its high 5G coverage advantages, Taiwan Mobile also assists corporate customers with digital transformation, helping them to discover new market opportunities.
Currently Taiwan Mobile is working closely with SKT, trying to amend the deficiencies of its 5G networks having poor signals when indoors and offering tailored IoT solutions to enterprises, to improve business applications and realize the vision of industry 4.0.
訊息來源:台灣大哥大股份有限公司(英文版)
本文含多媒體檔 (Multimedia files included):